Polin Waterparks and Lagotronics Projects team up
17 november 2016
Imagine what happens when the global market leader in design, manufacturing and installation of waterslides teams up with the developer of world's best interactive experiences… That would certainly result in some really awesome interactive waterslides and games! And it has happened: Polin Waterparks and Lagotronics Projects have partnered to serve the waterpark industry.
Together they are going to create unbelievable new interactive waterslide experiences! In the past year they have already been busy developing some great interactive water fun, for both water sliding and water gaming!
And their first innovative project can be seen at the IAAPA Attractions Expo in Orlando: the Splash Cabin! A truly surprising example of Lagotronics Projects' GameCabIN. Curious? Visit Polin's booth (#1378) and experience it yourself! And there are even more surprising products coming up: what about Slide'n Score, interactive dark rivers, VR waterslides and VR waterslide gaming?
You'll be hearing more about this special co-operation within the next few years. It will bring a great new dimension to the waterpark industry!
About the companies
Lagotronics Projects
Lagotronics Projects is known for their interactive dark rides, creating unforgettable memories. Having started out in the audio and lighting business in 1979, today they create interactive experiences for theme parks, waterparks, museums, amusement parks and shopping malls. They have been pioneers since their earliest beginnings, providing innovative solutions in the field of interactive systems, game development, audio, video, lighting and show control. Please visit Lagotronics Projects at www.lagotronicsprojects.com for product information, news, showcases and other updates. Booth #1360
Polin Waterparks 
Polin was founded in Istanbul in 1976 and has since grown into a leading company in the waterparks industry. Today Polin is a world leader in the design, production and installation of waterparks, waterslides &and water-play attractions. Polin has completed 2,500 waterpark projects in 100 countries around the world. Working with a wide variety of clients has helped Polin reach several milestones including installing the first waterparks in many countries and many other award-winning rides at parks with world-renowned reputations.
Polin offers the industry's widest range of products, including signature rides such as the patented King Cobra,  Magic Sphere,  Spheres, Magicone, Space Shuttle and Space Race. Polin is the pioneer in the advancement and application of closed-molded manufacturing technology in waterslide development. Please visit Polin at www.polin.com.tr for product information, news, events and other updates. Booth #1378
Laatste editie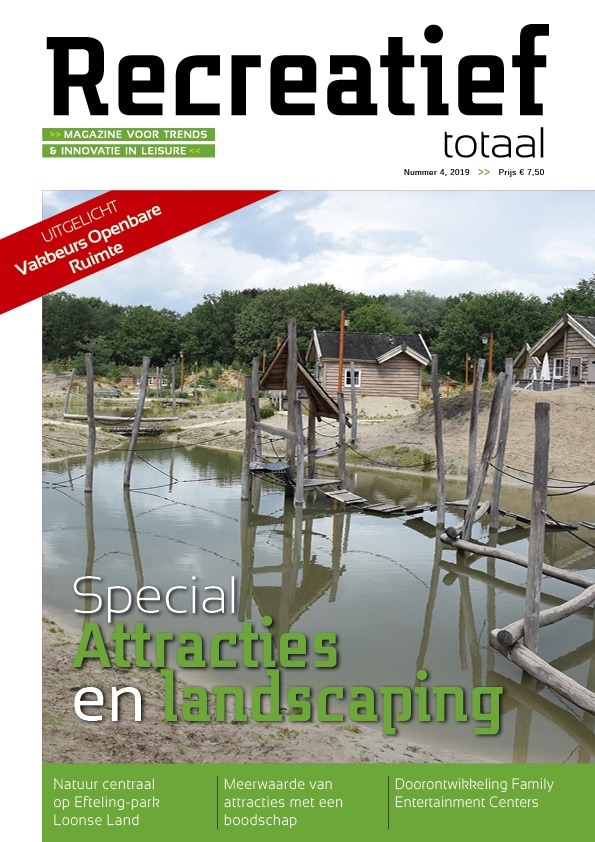 Online Recreatief Totaal editie 4, 2019 doorbladeren
UW NIEUWS OP DE WEBSITE?
Persbericht aanleveren
Heeft u interessant nieuws of een bijzonder verhaal? Laten het ons weten via info@recreatieftotaal.nl of via deze handige upload module. Denk hierbij bijvoorbeeld aan de lancering van een nieuw product, bedrijfsovername, de opening van uw nieuwe locatie, of wat te denken van het winnen van een award.
BLIJF OP DE HOOGTE
SCHRIJF U IN OP DE NIEUWSBRIEF
ONTVANG HET MAGAZINE GRATIS